Sponsored Link
スポンサーサイト
Cool Japan / Festivals of Japan / Where life's rhythms march to a different beat
Here's a festival that leaves thousands of men, clad only in happi coats and loincloths, literally panting.

(Men dressed in happi coats and loincloths parade their float through the central Hakata Ward
of Fukuoka in the 2011 Hakata Gion Yamagasa festival.)
Hakata Gion Yamakasa (博多祇園山笠) is a Japanese festival celebrated from 1-15 July in Hakata, Fukuoka. Its rites centre on Kushida Jinja. Famous for its one ton float-racing, it has a seven hundred and fifty year history, attracts up to a million spectators, and in 1979 was designated an Important Intangible Folk Cultural Property.[1][2][3] The sound of the Kaki Yamakasa has been selected by the Ministry of the Environment as one of the 100 Soundscapes of Japan.

(Runners fill the streets of Fukuoka)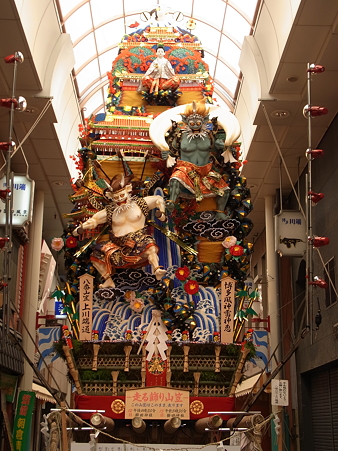 (Meticulous preparations go into decorating the floats)



(A giant yamagasa float narrowly passes through the covered arcade of a shopping
street in Hakata Ward, Fukuoka Prefecture.)
Eisa (エイサー Eisa) is a form of folk dance unique to the people of the Ryukyu Islands. Although it is performed many times throughout the year at various festivals, Eisa performances are concentrated around lunar mid-July. This is a centuries-long tradition, to mark the end of the Obon Festival.
It is danced by 20-30 young men and/or women, mainly in a circle to the accompaniment of singing, chanting, and drumming by the dancers, and folk songs played on the sanshin. Three types of drums are used in various combinations, depending upon regional style: the odaiko (大太鼓), a large barrel drum; the shimedaiko (締太鼓), a medium-sized drum similar to ones used in Noh theatre; and the paaranku (パーランク), a small hand drum similar to ones used in Buddhist ceremony.

(Dancers perform the eisa dance at a festival in August 2011 in Naha.)



(Kazuha Sakiyama, Miss Okinawa, shows her eisa dance moves to a group of
students in Takamatsu, Kagawa Prefecture.)
Onda Matsuri: Aso-jinja Shrine, Ichinomiyacho, Kumamoto festival. This is held after the rice planting is done and features a parade of women carrying a midday meal to the gods and dressed in white robes.

(Women carry offerings to the deities in the Onda Matsuri festival in Aso, Kumamoto Prefecture.)
By TS on Mar 20, 2012
スポンサーサイト
tag : Cool_Japan