Sponsored Link
スポンサーサイト
Cool Japan / INTERVIEW/ Ken Watanabe: If Hayabusa probe can do the impossible, so can Japan
Critically acclaimed actor Ken Watanabe is a man of his word, not forgetting the evacuees he visited in the Tohoku region following the March 11 earthquake and tsunami disaster.
He kept his promise to give evacuees the first showing of his latest film, "Hayabusa Harukanaru Kikan" (Hayabusa, return from distant place).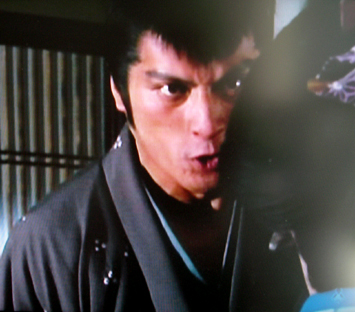 "As I visited disaster-affected areas, I felt more strongly that, 'After all, I am an actor, and the best thing I can really do is bring them a film,' " Watanabe said.
Watanabe stars as Shunichiro Yamaguchi, the project manager of the Hayabusa asteroid probe project in the film, which is directed by Tomoyuki Takimoto.
The story follows the Hayabusa, which in real life made a miraculous return from a seven-year, 6-billion kilometer, trouble-plagued space journey to return with particles from the asteroid Itokawa to Earth.
In "Hayabusa," Watanabe portrays a Japanese scientist who wears a permanent frown and who speaks in a mumbling tone.
"It was difficult," he said. "I would liken his internal energy not to a blazing red flame but to a blue or green flame quietly reaching more than 1,000 degrees Centigrade. I had a hard time thinking how to express it."
According to Watanabe, Yamaguchi--who is modeled after the real-life Hayabusa project manager Junichiro Kawaguchi--is a leader and "not someone who waves a flag from the top position but who stands behind everyone and motivates them to want to work to 120 percent of their abilities."
"He takes up ideas if they are good, regardless of the careers of those who propose them, but he also ruthlessly gets rid of bad ones. It was troublesome to come up with ways to make the audience emotionally connected to Yamaguchi," Watanabe said.
The actor is reminded of Japanese filmmakers being compared to Hollywood when he thinks about the Japanese scientists who accomplished the remarkable feat for the first time with a budget one digit smaller than that of NASA's.
"Their budgets, as well as the number of shooting days, are different orders of magnitude. But their wisdom, ingenuity and sort of 'all-or-nothing spirit' are the same," Watanabe said with a smile.
Keeping his promise to the people in the Tohoku region, Watanabe hosted screening sessions in five places in Iwate and Miyagi prefecture in mid-January before the film was released.
He also has set up the kizuna311 website, which posts messages of support for disaster-affected people.The website is accepting orders for a calendar that begins from March 12 and contains messages from disaster-stricken people.
"Things haven't progressed as much as we expected after the disaster, and when we say things like hope, dream and light, I feel that they won't sit right with the audience," he said of "Hayabusa." "But I think this film embraces some kind of a small light of hope. I wish, through the film, the audience could feel the force within themselves that is trying to get back on its feet--no matter how small it may be."
Watanabe also addressed all Japanese, saying: "The Hayabusa probe took seven years to return to Earth even though its reaction wheels, which control the attitude movement, failed. I'm sure Japan can sit up straight once again."
Watanabe was born in 1959 in Niigata Prefecture. He has starred in many hit films including "The Last Samurai," "Letters from Iwo Jima" and "Shizumanu Taiyo" ("The Unbroken"). The actor also played a leading role in the 2010 worldwide blockbuster "Inception," opposite Leonardo DiCaprio.
"Hayabusa Harukanaru Kikan" is currently showing at cinemas across Japan.
By TS on Feb 27, 2012
スポンサーサイト
tag : Cool_Japanese