Sponsored Link
スポンサーサイト
COOL JAPAN / SubWay Ohedo-Line Ueno Okachimachi / 上野御徒町 大江戸線

(Toei 12-000 series EMU used on the Oedo Line at Kiba Inspection Yard)
This is one of
Cool Japan
ese Scenes for foreign people.
The Toei Oedo Line (都営地下鉄大江戸線 Toei Chikatetsu Oedo-sen) is a subway line in Tokyo, Japan operated by the Tokyo Metropolitan Bureau of Transportation (Toei). It commenced full operations on December 12, 2000; using the Japanese calendar this reads "12/12/12" as the year 2000 equals Heisei 12. The line is completely underground, making it the second-longest railway tunnel in Japan after the Seikan Tunnel.
On maps and signboards, the line is shown in "magenta" (O). Stations carry the letter E followed by a two-digit number.
SubWay Ohedo-Line Ueno Okachimachi / 上野御徒町 大江戸線
The Oedo Line is Tokyo's first linear motor metro line (and the second in Japan after the Nagahori Tsurumi-ryokuchi Line in Osaka), which allows it to use smaller cars and smaller tunnels. These putative cost savings were, however, offset by the need to build the line very deep (as low as 48 meters below ground at points) through central Tokyo, including three underground crossings of the Sumida River. Originally budgeted at \682.6 billion and 6 years, the construction ended up taking nearly 10 years and estimates of the final cost of construction range from the official \988.6 billion to over \1,400 billion yen, making it the most expensive subway line ever built.[1] (Yokohama's Minato Mirai Line, however, was even costlier if measured per kilometer.)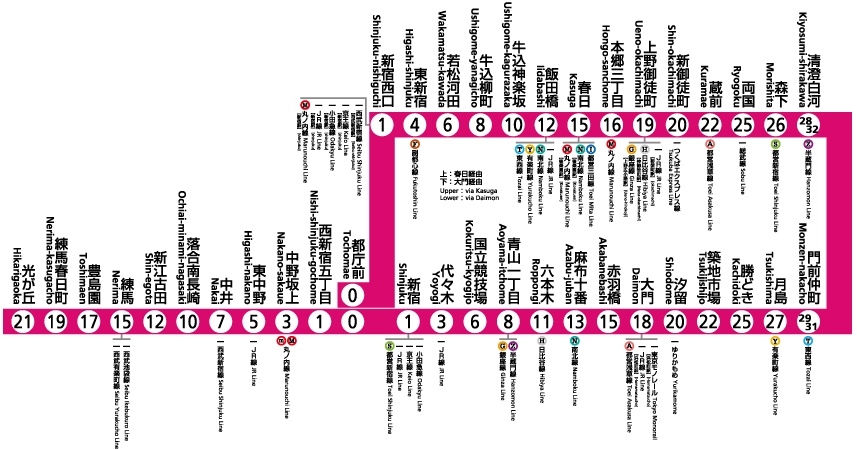 (SubWay Ohedo-Line Route)
By TS on Feb 19, 2012
スポンサーサイト
tag : Cool_Japan