Sponsored Link
スポンサーサイト
Cool Japan / Hashimoto-Yakichi-shouten (橋本弥喜智商店 / Hashimoto Yakichi Store)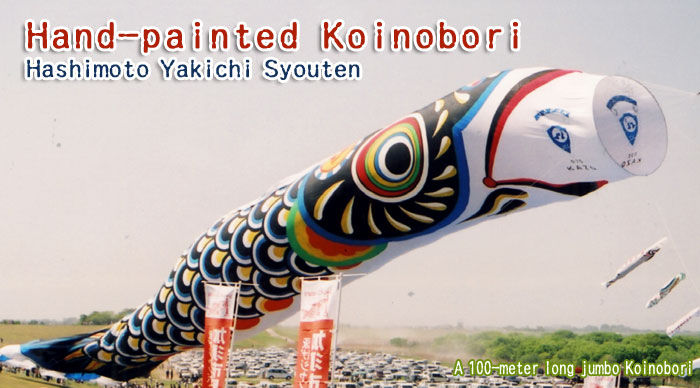 (Koinobori / 鯉のぼり)
Hashimoto Yakichi shouten is a craft studio that has for many years hand made koinobori or carp-shaped streamers. The studio opened in the 14th year of the Meiji period and now, as the third master, Takashi Hashimoto makes the koinobori.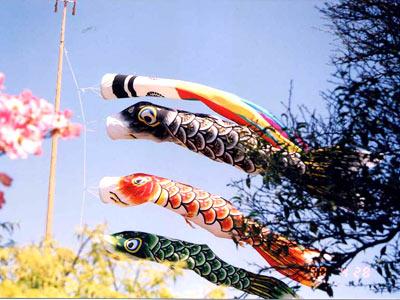 (koinobori / 鯉のぼり, flying in the sky)
Hashimoto Yakichi shouten is the only studio that makes koinobori by hand in the Saitama prefecture Kazo area. Kazo is the foremost area for koinobori production in Japan. There are reasons for making koinobori by hand. The first reason is thata handcrafted koinobori ha an original "feel" that makes it different from a machine-made one. In addition to the special "feel", a hand-made koinobori uses special pigments that do not discolor easily.

(Hashimoto-Yakichi-shouten (橋本弥喜智商店 / Hashimoto Yakichi Store))
Moreover, a hand-made koinobori is made of nylon and not cotton because when it is raised, it looks more powerful. On the other hand, the studio's principle is "Changing tradition slightly is one way to maintain tradition". From this belief, the studio has been successfully creating koinobori that fit the demands of present-day society, in addition to the "bushuu" koinobori that have been continuously made since the studio was founded. Animated and powerful koinobori will be seen flying this year again, in many parts of Japan.
View Larger Map
By TS on Feb 25, 2012
スポンサーサイト
tag : Cool_Japan