Sponsored Link
スポンサーサイト
Cool Japan / Yanesen (谷根千) - Shitamachi off the Beaten Path

(Yanaka (谷中) Ginza / Shopping Street)
Asakusa and other parts of shitamachi have become fixtures on the international tourist map, but there is still one shitamachi area that remains largely undiscovered by overseas tourists: Yanesen.
Yanesen is an almost triangular area with Nezu (根津), Nippori (日暮里) and Sendagi (千駄木) stations at its tips. Given the geography and the Japanese language's habit of merging words, it may come as no surprise to hear Yanesen is formed from the ya from Yanaka (an area just south of Nippori Station), the ne from Nezu and the sen from Sendagi.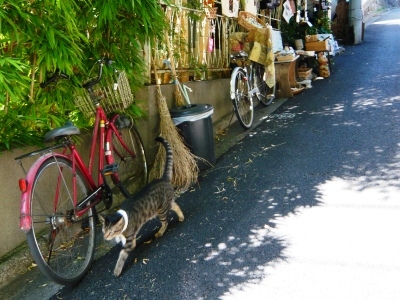 (At Yanesen we are able to enjoy old and traditinal Japan in Tokyo.)
The area is defined by narrow backstreets dotted with small temples and shrines, old residences and a traditional working-class community. All combine to make Yanesen the perfect place for an afternoon stroll if you want a break from the fast-paced living of modern Tokyo.
Starting by heading up the hill from the west exit of JR Nippori Station, the Yanesen walk begins unspectacularly along a busy road lined with apartment buildings, houses and the occasional shop. It isn't until the hill begins to flatten that the real Yanesen starts to reveal itself with a small temple breaking the monotony on your right.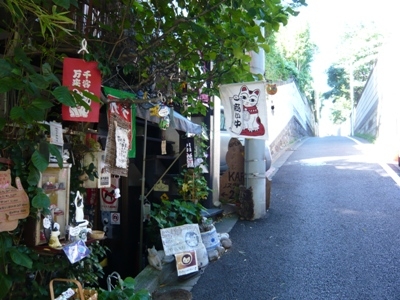 (Nennekoya (ねんねこ家) / Cat Goods Shop)
As the road begins to slope downwards it splits in two; branching right toward the main shopping street and left into a maze of backstreets. Save the shopping street for later and turn left, following the backstreets southward and taking in a sculpture museum, several cemeteries and a collection of small temples and shrines as you go.
Just a fifteen-minute walk to the west of this main cluster of temples and shrines lies what is perhaps the grandest of the area's religious structures, Nezu Shrine. The buildings that stand at Nezu Shrine today were built in 1705 by the 5th Shogun TOKUGAWA Tsunayoshi, making them some of the oldest original structures remaining in Tokyo today. It is no wonder then that some of them have been designated as important cultural properties.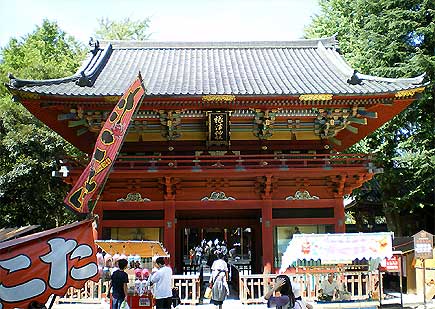 (Nezu Shrine / 根津神社)
Within the temple's compounds a second shrine can be found. It is dedicated to Inari, the goddess of rice, and much like the famous Fushimi Inari Shrine in Kyoto it features numerous kitsune (fox statues) and dozens of red torii (gates) lining the narrow path to the main shrine. Nezu Shrine and its surroundings are beautiful year round, but bloom into life in April and early May with tsutsuji (azalea) that paint the grounds a rainbow of colors.

(Tortoiseshell workshop & Tortoiseshell crafts)


(Tortoiseshell crafts)
Leaving Nezu Shrine, you can head for either Sendagi or Nezu stations on the Chiyoda Line, or you can make a beeline for Hebi Michi (Snake Road) and follow its winding route to Yanaka Ginza. Hebi Michi gets its name because it makes its way like a serpent from one side of Yanesen to the other. It can be hard to find, so you'll have to keep checking the tourist maps that dot the main streets, or perhaps stop by one of the local koban and ask for directions.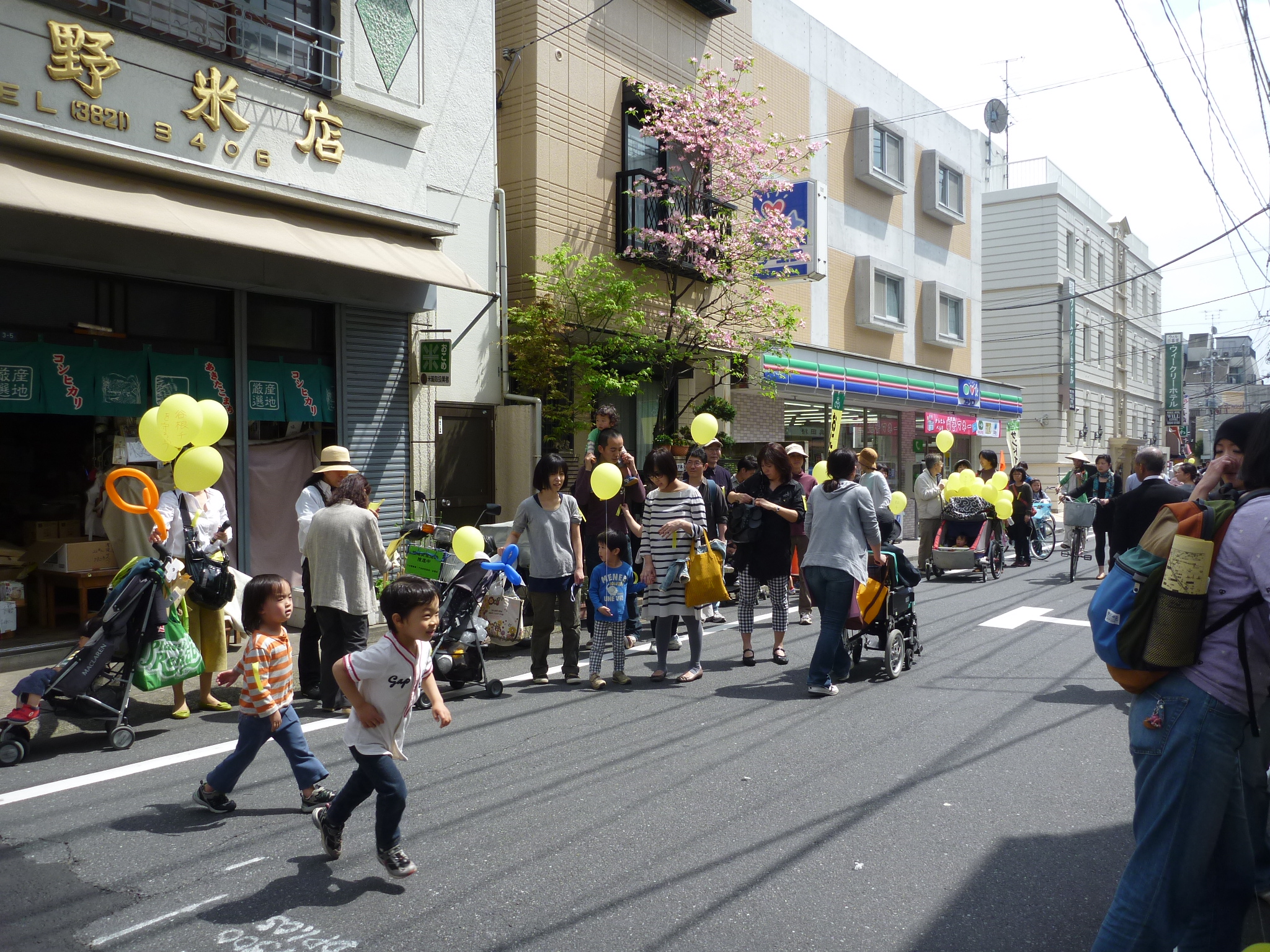 (Yanasen Scene at the beginning of May)
The narrow Hebi Michi passes through areas where washing and futon hang on balconies on sunny days, the quiet residential feel is only broken occasionally by launderettes, tiny grocery stores and an izakaya or two. Eventually the street widens and you appear at the bottom end of Yanaka Ginza, the area's central shopping street.

(Tenement located in Yanasen Area)
Yanaka Ginza has a mixture of shops where locals get their groceries and household essentials and touristy restaurants and souvenir shops for the bus loads of sightseers who descend on the area at weekends. On weekdays the street isn't too busy and is the best place to stop off for a feed before bringing your Yanesen walk to an end and heading over the hill back to Nippori Station.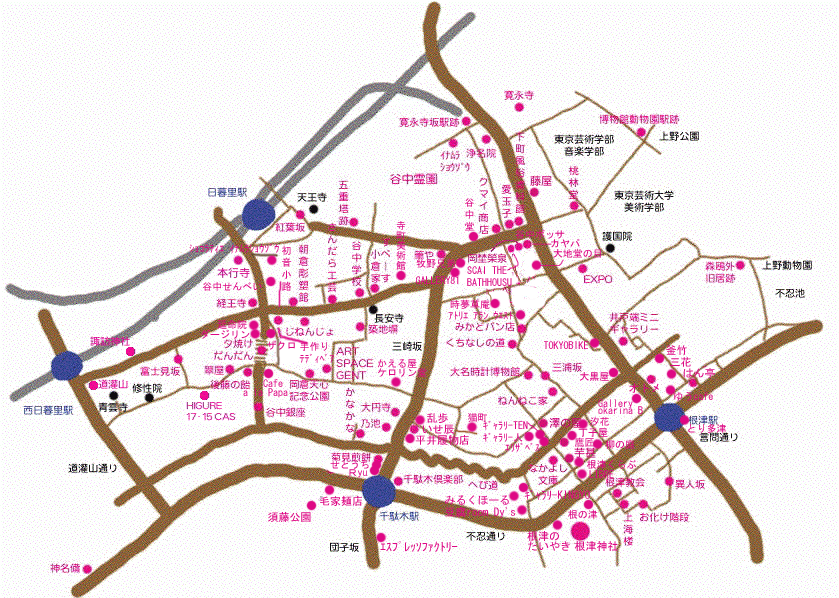 (Yanasen Map)
By TS on Jan 23, 2012
スポンサーサイト
tag : Cool_Japan